Vietnam: need to plan the development of airports soon
Most of Vietnam's international airports are overloaded, unable to meet the needs of domestic and international passenger transport.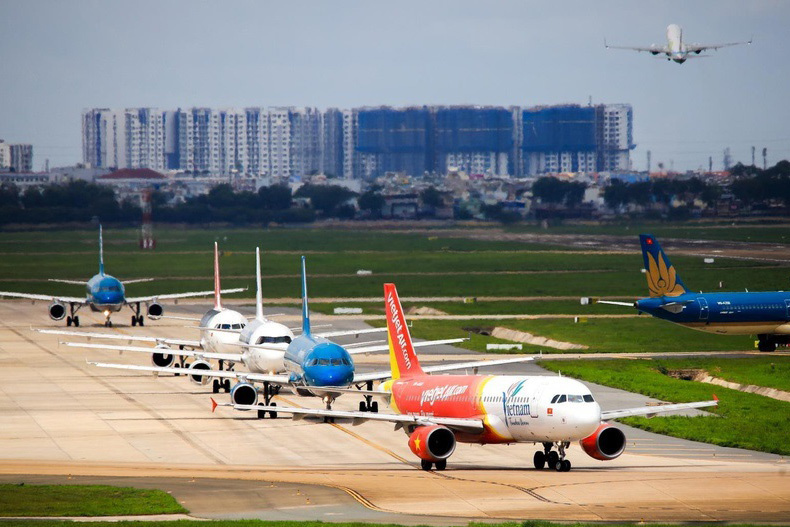 The 21 Airports in Việt Nam are overloaded with the number of passengers estimated to increase to over 112 million this year against a capacity of 96.05 million. Last year, they handled 103.5 million passengers.
Tân Sơn Nhất International Airport in HCM City suffers from chronic traffic congestion inside and outside despite the efforts of the city's People's Committee, the Ministry of Transport and other agencies.
Airport authorities have yet to identify the contractor for building the third terminal. The new terminal will be designed to handle 20 million passengers annually, helping to resolve the traffic congestion and develop the airport in accordance with the master plan approved by the Government.
The overload is the reason why no more slots are allotted to foreign or local airlines at the airport.
Overloading is a serious problem also at some of the other international airports such as Cam Ranh airport in central Khánh Hoà Province and Đà Nẵng airport. Đà Nẵng Airport, which has a capacity of 10 million passengers per annum, received 13.2 million last year.
Cam Ranh, with a capacity of 6.5 million, handled more than 8.2 million people last year.
The numbers of passengers using other airports such as Thọ Xuân in Thanh Hoá Province, Cát Bi in Hải Phòng City, Vinh, Phù Cát in Bình Định Province, and Tuy Hoà in Quy Nhơn City has also reached the designed capacity.
According to the Airports Corporation of Việt Nam (ACV), since 2012 a number of airports have been upgraded taking the total design capacity of its airports from 50.1 million passengers a year to 96.05 million.
Tân Sơn Nhất airport's capacity increased from 18 million to 28 million passengers, Nội Bài airport's from 6 million to 25 million, Đà Nẵng airport's from 6 million to 10 million, and Cam Ranh airport's from 2.5 million to 6.5 million.
There are five carriers in the country, Vietnam Airlines, Vietjet Air, Jetstar, Vasco, and Bamboo Airways.
Besides, applications have been submitted to start Vietstar Airlines, Vietravel Airlines and Vinpearl Air.
Aviation experts say to ease the pressure on Tân Sơn Nhất Airport, construction of T3 is an urgent requirement.
The ACV has to choose an experienced company for the construction, experts say.
Along with the construction of the terminal, the ACV must also speed up construction of Long Thành International Airport in southern Đồng Nai Province.
If the construction of Long Thành airport is delayed and not completed by 2025, the pressure would remain on Tân Sơn Nhất airport, and the areas around it would still have to suffer from severe traffic congestion, they added.
In the 2021-2030 period, priority will be given to investing in a number of large airports, playing a key role in the Hanoi capital area (Noi Bai airport) and Ho Chi Minh City (Tan Binh airport). Son Nhat and Long Thanh); step by step upgrade and effectively operate 22 existing airports, invest in 06 new airports to bring the total number of airports in the country into operation to 28 ports, with a total designed capacity of the port system.
The airline can handle about 278 million passengers, ensuring over 95% of the population can access the port within 100km. Invest in a system of infrastructure and flight management equipment in a synchronous, modern and regional way to meet transport needs. Step by step invest in logistics centers, training centers, flight training, aircraft maintenance and repair and equipment systems to ensure flight operations.
The demand for investment capital for the development of the airport system by 2030 is about VND 400,000 billion (accounting for about 22% of the investment capital demand of the whole industry), which can be mobilized from the state budget, non-budget capital and other sources other legal capital./.
Bich Huong