Talking shop: UK businesses see 'new investment opportunities in Vietnam despite pandemic': envoy
The COVID-19 pandemic has had a strong impact on the global economy, including Vietnam. The country has however been a safe destination for foreign investors thanks to its successful efforts to control the outbreak.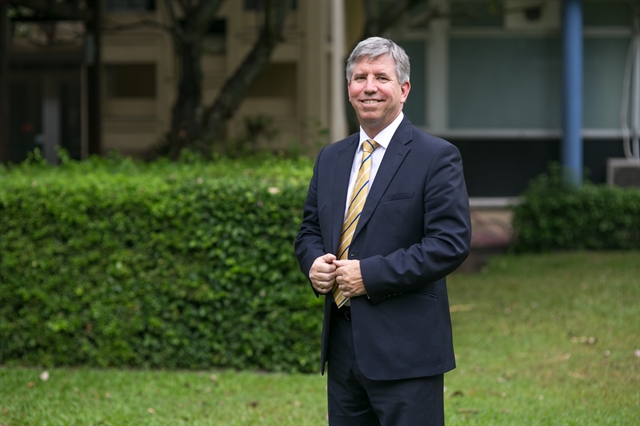 British Consul General in HCM City, Ian Gibbons
The COVID-19 pandemic has had a strong impact on the global economy, including Vietnam. The country has however been a safe destination for foreign investors thanks to its successful efforts to control the outbreak. Vietnam News' Thu Ngan speaks to the British consul general in HCM City, Ian Gibbons, about UK enterprises in this country and how he sees investment trends in the near future.
How have British businesses been doing in Vietnam in recent times? How are they coping with the impacts of the COVID-19 pandemic?
Many British companies are attracted to Vietnam due to the country's steady economic growth and ongoing efforts to integrate fully into the global free trade system.
British firms operate across a range of sectors here, including education, financial services, energy, infrastructure, and healthcare, and there are new opportunities in the country's evolving tech sector.
But of course COVID-19 has been hugely disruptive for firms' operations, here and across the globe. Travel restrictions were imposed early by the Vietnamese Government, impacting mobility and recruitment. International schools are struggling to recruit teachers from overseas ahead of the new academic year. Companies in the aviation sector have faced significant disruption with revenues dropping by 70-80 per cent. Many expect that they can only resume normal operations in the third quarter at the earliest. Across the board, companies are experiencing delays in payment and administrative procedures, and challenges in securing licensing for new projects.
However, Vietnam has been successful in limiting infections through proactively testing, tracing and treating those infected, and life is now returning to normality here, ahead of other countries in the region. Social distancing has been a central part of Vietnam's strategy, and British companies will need to adapt to new ways of working, including more remote working for staff and shifting to virtual meetings with external stakeholders. Companies can benefit from the Vietnamese Government's guidance on precautions for businesses, including advice on how to ensure the health and safety of employees, as operations resume.
Many foresee a new wave of foreign investment in Vietnam after the pandemic since it is a safe and attractive destination. How do you see it?
We continue to see interest from the British business community in new investment opportunities in Việt Nam, despite the ongoing global pandemic. Education is a key area of opportunity, and a number of British educational institutions are seeking potential partners for new strategic co-operation in Vietnam.
Healthcare is another promising area for UK investment. The current global pandemic has necessitated collaboration and innovation across the healthcare sector. In Vietnam, we've seen Prudential launch a mobile app enabling people to monitor their own health and the British Medical Journal establish online COVID-19 resources for medical training of doctors around the world.
Vietnam has worked with UK partners on disease control for many years. For instance, the Oxford University Clinical Research Unit conducts world leading research on epidemiology in HCM City and Hanoi.
UK pharmaceutical companies are an important part of the Vietnamese healthcare system.
Tech is an area of opportunity too. Within the startup realm, Vietnam's fintech groups are gaining traction, and the sector received considerable foreign investment last year, ranking second in Southeast Asia. At times like this, the world needs innovative companies more than ever, with the tech sector in particular having a key role to play in the global recovery from COVID-19.
The UK government recently announced a £1.25 billion (US$1.46 billion) support package to enable British tech start-ups to access the capital they need to continue developing and innovating through the crisis, creating the services and products of the future.
What should Vietnam do to enable companies to recover as soon as possible and what should it do to attract investors?
In the past year Vietnam has revised regulatory frameworks in order to attract more foreign direct investment. There is still more that can be done on regulatory and administrative reform to make Vietnam a more attractive destination for UK investment. The UK Government is supporting the development of a Government Resolution on simplification and streamlining of administrative procedures relating to business activities in 2021 – 2025. If successfully implemented, this could be a significant reduction of administrative burden on businesses, boosting the country's economic growth and productivity.
Despite facing complicated decisions on how to balance public health benefits and economic costs, Vietnam's Government has been successful in managing the impacts of COVID-19, and in supporting the economy's resilience.
Looking at the regional perspective, at the Special ASEAN Summit on COVID-19, ASEAN reaffirmed its commitment to a collective COVID-19 response and to strengthening the resilience of supply chains in the region. This pandemic has shown that no country is self-sufficient and that international collaboration is vital to tackle the economic impacts of the crisis.
The UK will continue to deepen its commitment to global trade and we believe that maintaining openness, flow of investment and functioning supply chains are crucial to economic recovery. The removal of trade barriers will be key in attracting the investment needed to stimulate economies. There is optimism about Vietnam's economic recovery with an expected GDP growth rate of 7 per cent in 2021 and we have confidence in Vietnam's capability to realise this expectation./.