Đà Nẵng and Quảng Ninh ease COVID-19 restrictions, with outbreaks under control
The central city of Đà Nẵng plans to resume some outdoor activities and ease restrictions on some businesses in the city from Wednesday.
After 20 days without a new infection, the Đà Nẵng's People's Committee has decided to allow restaurants to resume outdoor dining and hair salons to offer indoor services. However, beauty salons are still banned at this time.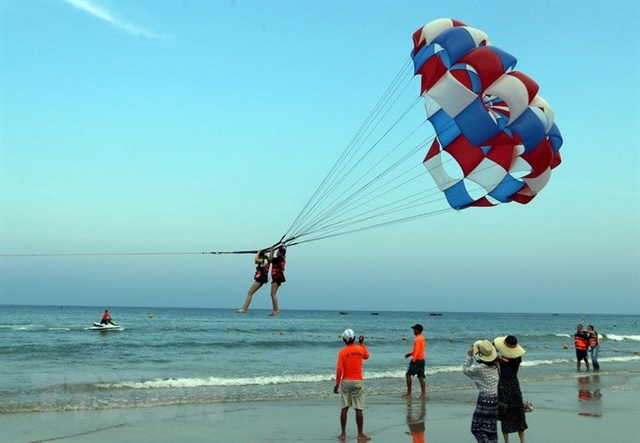 Tourists play parachute in the sea in central Đà Nẵng City. The city plans to resume some outdoor activities after the COVID-19 outbreak is under control. — VNA/VNS Photo
Beaches will also be open for people to enjoy outdoor exercise, civil servants and public employees at offices will return to work as normal and public gatherings of up to 20 will be allowed, up from the current five.
Phan Văn Sơn, deputy chief of the secretariat of the city's People's Committee, said the plan had been sent to localities for comments and suggestions.
"The pandemic has been complicated across the country. A final decision will be made on the basis of the pandemic developments on June 8," he said.
Nguyễn Văn Quảng, secretary of the Đà Nẵng Party Committee, asked localities to tighten control and prevention measures, especially from high-risk areas such as manufacturing facilities, industrial parks, and require the health sector to prepare for mass community testing if needed.
Tourism in Quảng Ninh
From noon on Tuesday, Quảng Ninh allowed domestic tourists to return to the province and allowed some types of tourism businesses to open again.
Nguyễn Xuân Ký, chairman of the provincial People's Council, said the province made the decision after going 30 days without any locally transmitted COVID-19 cases.
Cafes, restaurants, food and beverage outlets, sports, gyms and fitness centres, and billiards clubs will be allowed to open, as will golf courses.
Meanwhile, karaoke parlous, discos, spa and massage services, bars and pubs are still not allowed to resume operations.
The provincial Department of Tourism will work with provinces and cities and base its decisions on the National Steering Committee for COVID-19 Prevention and Control's assessment to receive tourists from safe areas throughout the country this summer.
Previously, Quảng Ninh suspended tourism activities, including Hạ Long Bay and Bái Tử Long Bay, on May 6.
Since April 27, the province has recorded one case of COVID-19 infection. The province has resumed 14 COVID-19 quarantine checkpoints at the gateways connecting Quảng Ninh and Hải Phòng, Hải Dương, Lạng Sơn and Bắc Giang./.